"Gokura, India – Japan Confluence"
39,00 €
Ebook (interactive PDF)
About  Mumbiram's Gokura ensemble made in Japan
100 pages
five masterpieces of Gokura Ensemble
plus 21 of Mumbiram's paintings in watercolour, oil, Ink&Brush and charcoal
ISBN: 978-3-943040-11-1
Description
Gokura means paradise in Japanese. This Gokura ensemble tells the friendship between Mumbiram and Gokula from Japan who was madly in love with India. It had a storybook beginning in the holy land of Vrindavan in India, and brought Mumbiram to Japan where he created the Gokura ensemble consisting of five oil paintings. 
The five paintings are astonishing in their innocence, romance, simplicity and boldness. They are wonderful examples of art produced from the confluence of Indian and Japanese cultures.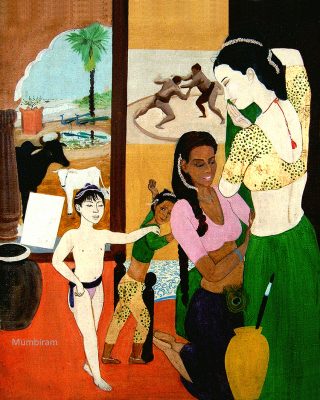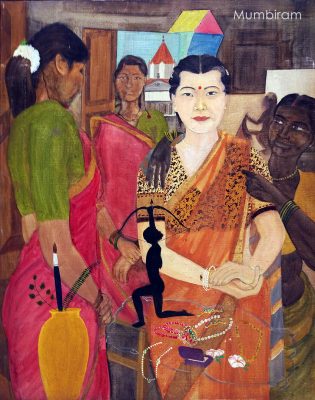 They have a story-like quality found in Indian as well as Japanese miniatures. Every detail is full of meaning. Indeed to discover these details is the joy of these paintings. They invoke images of a spiritual India in the most happy and optimistic light.
The warm feeling of sharing and rapport is most wonderfully depicted in these paintings.
It is an idealized world no doubt.
They inspire a way of life that is peaceful yet full of adventure and mystery. The adventure is into the inner world of mysteries of existence. This is the heritage of India that we all would like to see preserved.
The Gokura ensemble is a tribute to love between people that goes beyond cultural differences and causes a renaissance through the coming together of great ideals.
Gokula and Mumbiram both had come to the realization that art and spirituality can be two sides of the same coin. Art at its best can be an enlightening experience to the artist as well as his muse. Art gives wings to man.
This catalogue also describes Mumbiram's stay in Vrindavan in the 80s and the meetings he had with sages and scholars, chai wallas and actors. It also presents the artworks he produced at the banks of the Yamuna and in the temples of Vrindavan.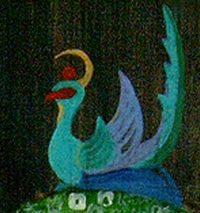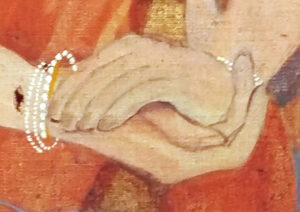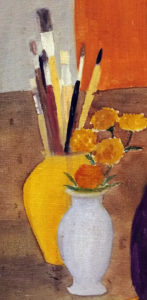 The Gokura ensemble is in the spirit of offering back some of creation's bounty in a mood of supplication, gratitude and celebration which itself is the key to a happy and prosperous world civilization.