Gokura, Confluence of Culture in an Indian-Japanese Friendship
Ebook (interactive PDF)
About Artist Mumbiram's ensemble of five oil paintings made in Japan.
ISBN: 9 7 8 – 3 – 9 4 3 0 4 0 – 1 1 – 1
Description
Gokura means Paradise in Japanese. This catalogue retells the friendship between Mumbiram and Gokula from Japan. It had a storybook beginning in Vrindavan, India, and led to Mumbiram creating five oil paintings on canvas in Japan. In this catalogue they are described in detail. The warm feeling of sharing and rapport is most wonderfully depicted in these paintings. It is an idealized world no doubt. It is a tribute to love between people that goes beyond cultural differences and causes a renaissance through the coming together of great ideals.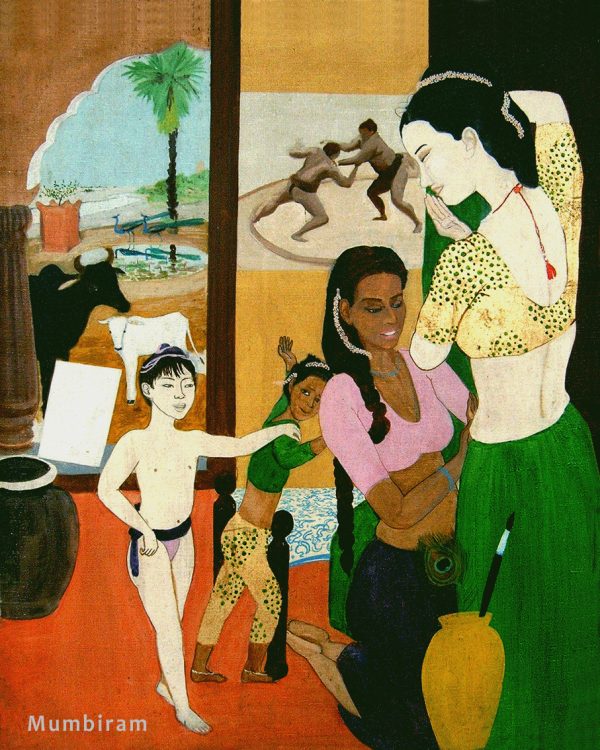 Gokula and Mumbiram both had come to the realization that art and spirituality can be two sides of the same coin. Art at its best can be an enlightening experience to the artist as well as his muse. Art gives wings to man.
This catalogue also describes Mumbiram's stay in Vrindavan in the 80s and the meetings he had with sages and scholars, chai wallas and actors. It also presents the artworks he produced at the banks of the Yamuna and in the temples of Vrindavan.
Sign up to hear about our latest publication….