Great Classics of Sanskrit Literature in an attractive contemporary Avatar
This ensemble of five Art Quality Books by Artist Mumbiram are flagships of Rasa Renaissance.
All five of them are embellished with his masterpieces of Rasa Art
…that bring us the good-tidings that the barren void in Art and Spirituality will once again resound with the passionate calls of cuckoos maddened by mango blossoms and hordes of bumblebees lusting after honey.
Each volume is self-contained with foreword, interesting endnotes and an extensive glossary.
As an ensemble they are a festival.
The First Four Books of the High Five of Love
The first four books are Artist Mumbiram's English translations of Sanskrit Classics. They introduce a body of hitherto undiscovered esoteric literature that is based on the Rasa Theory of Literature and the Arts. It is a well-explored theory that has been prevalent in appreciation of classical Sanskrit Literature. 
These books are in the same league as such first-ever translations as Fitzgerald´s Rubaiyat, Sir Richard Burton´s Arabian Nights or Edwin Arnold´s Light of Asia. They are exquisite contemporary English translations with a uniquely evolved emotional language that has direct appeal. They enrich the English language to new heights of emotional expression.
These sweet and innocent stories are endless adolescent adventures in amour and aphrodisia. They express emotional states that we all seem familiar with.
These works are unabridged presentations of the originals. The English renditions are superb. They don't show any cumbersomeness of a translation.Yet they capture the exact emotional hues of a classical language of a distant era. It is English that is dignified yet pleasantly replete with young contemporary idiom.
It is easy to identify with the characters of the ancient classics. It is easy to establish rapport with them as with familiar contemporary personalities.
The fifth of this High Five is an original work that Mumbiram had composed in America in the seventies. One cannot help feeling that here Mumbiram is fulfilling Walt Whitman´s "Passage to India". The first four books of 'The High Five of Love' set the mood and provide the context for Mumbiram's: "Deluges of Ecstasy", a path-breaking work of theophily in the highest Prema Vivarta mood, verily a passionate Love Affair.
A Fusion of Rasa Art and Rasa Literature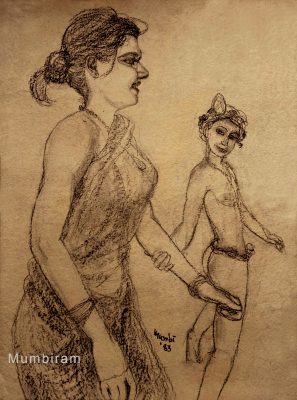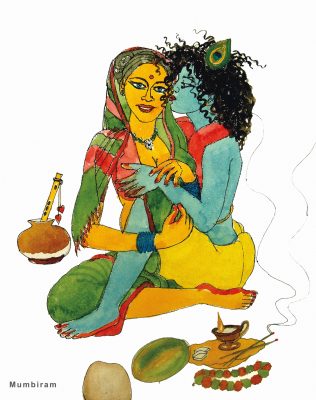 It may be said that if the legendary Jayadeva and his Gita Govinda did not exist, they would have to be invented as literary equivalents of Mumbiram´s art.
The persons appearing in the paintings exude the same unabashed innocent passion that the great Sanskrit Rasa Classics arouse. We have all seen Krishna-Leela depicted in Pahari or Mughal miniatures. It is all stylized. The Gopis all look alike. They all have the same fish eyes, the same straight noses that emanate from the same curved foreheads. We can only relate to them as distant mythological figures. Mumbiram's pictures show individuals. Women that could be the girl next door or movie actresses or rag-pickers or bird-catchers or whatever. They bring the eternal causeless sporting of the divine with the living entities, leela, to today's light. They breathe life-air into scriptural visions. Mumbiram's treatment is free from painterly affectations of brushstrokes and shadows. The lines are sweet and simple, nearly minimal. Such leela ……!
A Universal Paradigm of Divine Love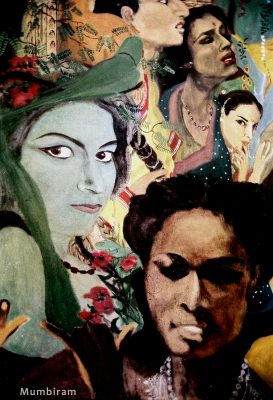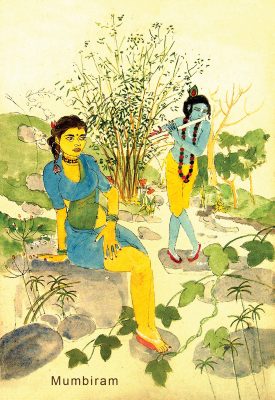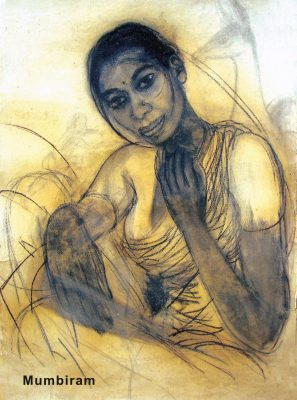 Mumbiram's Personalist Masterpieces that embellish this ensemble were not made as illustrations. They were independently made. They are the outcome of a life led with the aesthetic choice as the only guiding beacon, a life that was inspired by the same romantic ideals as the great Rasa Classics. They are remarkably contemporary in form as well as content even though they are expressing eternal aspiration of the human spirit. 
These five great Rasa Classics offer a New Philosophy of Comparative Religion and a "Universal Paradigm of Divine Love" that is against nobody. For admirers of Krishna it is a Contemporary Incarnation of the Classical Bhagavad Dharma where the joy, the beauty and the essential equality of all living entities shines gloriously through all the confusion of the material world.
Each one of these books has the remarkable quality that you open it anywhere and you are instantly transported to the world of a classical rustic romance that is simultaneously innocent and passionate, like nature itself. They gracefully rise above language and culture. They speak the universal language of Love.

These books are a consummate union of aphrodisia and spirituality. The books can be appreciated simply as books of Art and Love. Yet if you see it as a Paradigm of Divine Love, they elevate you to ecstatic heights of Esoteric High Spirituality.

These books take us to a brave new world of a brave new idiom and brave new images. This is a rainbow of rasa. Mumbi is humbly carrying it like a caddy for Beloved Creator. This is a worship of Blue Cloud with amazing unbelievable paraphernalia.
This presentation is an artistic triumph. 
Mumbiram´s paintings arouse a spectrum of rasas 
in concourse and contrast with words. 
They are Rasa Classics. 
High Five to a 'Brave New World of Brave New Visions'