Jewel-Box of Highest Secrets of  True Love
Vol. III "High Five of Love", Mumbiram & Party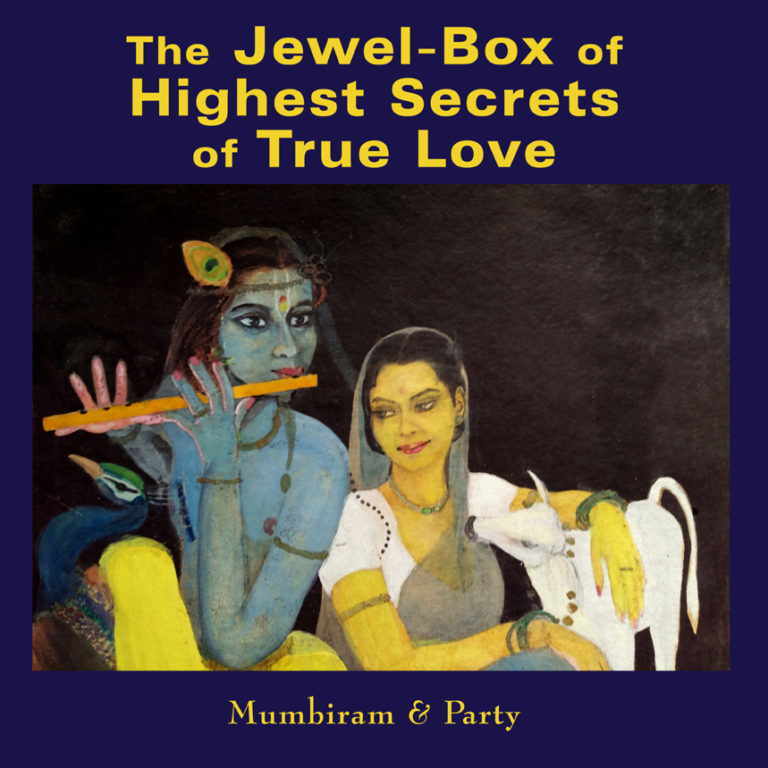 189 pages 
30 Masterpieces by Artist Mumbiram

ISBN: 978-3-943040-02-9
[wp_cart_button name="Jewel-Box of Highest Secrets of True Love, Vol.3 High Five of Love, Mumbiram & Party" price="49"]
JEWEL-BOX OF HIGHEST SECRETS OF TRUE LOVE is Artist Mumbiram's English translation of an esoteric work by Vishvanath Chakravarti of the 17th century. This is Chakravarti's most delightful original work: "Prema Samput" in Sanskrit.
It unveils the sublime treasures of philosophy and aesthetics of True Love. It has an ingenious plot that tells a delightfully witty and touching episode where Krishna comes to Radha in disguise only to lustily criticize his own miserable failure as a True Lover. Radha then reveals the most confidential secrets of True Love.
This Jewel-Box is a great solace to the souls thirsting for Rasa or juicy climax of emotional fulfilment that we are all seeking from love, relationships, art and literature.
Graceful Devanagari Script
This presentation includes the original Sanskrit text of the 'Prema Samput'.
Conjuring Appropriate Linguistic Aura
Vishvanath Chakravarti was recognized in his own time as an erudite scholar of the scriptures and a great exponent of spontaneous attachment to Krishna (raagaanuga bhakti). Chakravarti´s Radha and Krishna both speak about subtle nuances of True Love in brilliantly sophisticated prose. It is indeed a challenge to render that in contemporary credible English prose. Mumbiram's translation retains the uniqueness of the Sanskrit idiom and construction yet does not become cumbersome in translation. For those who are not well-versed with the Sanskrit language it points out the matchless internal rhythm and sonority of Chakravarti's language. It also mentions his effortless choice of words and the intricate nuances of the intriguing plotline. This translation has more than lived up to the challenge of conjuring up appropriate linguistic aura to match Chakravarti's literary virtuosity. 
A Rasa Experience in Art and Literature: Philosophy and Aesthetics of True Love
This Jewel-Box is ensconced with a select choice of Mumbiram's Rasa Art in his favourite media, that is Charcoal. The persons appearing in there exude the same unabashed innocent passion that the great Sanskrit Rasa Classics arouse. They bring the scriptural visions into today's daylight. Yet they were made in entirely contemporary settings and inspired by real life muses, contemporary people of all walks of life and cultures.