"Gokula's Dream Home in Vrindavan" – Rasa Masterpiece
1.200,00 €
Rasa Masterpiece "Gokula's Dream Home in Vrindavan" by Mumbiram
A Flagship of Rasa Renaissance
Collector's Item
High Quality Canvas Print
individually signed by Mumbiram
Description
Collector's Item Canvas Print of Original Masterpiece "Gokula's Dream Home in Vrindavan" by Mumbiram
"It is a tribute to love between people that goes beyond cultural differences and causes a renaissance through the coming together of great ideals."
80 x 100 cm
High Quality Canvas Print
individually signed by Mumbiram
This is a collector's item and you will get your Rasa Masterpiece individually signed by Artist Mumbiram.
Rasa Appreciation of original masterpiece "Gokula's Dream Home in Vrindavan" by Mumbiram
"Gokula's Dream Home in Vrindavan"
(

Oil on Canvas, Japan, 1988

, Mumbiram)
The painting was made in Japan after the artist had met Gokula in Vrindavan, India. Gokula from Japan was in love with India and had come to Vrindavan as a young woman. She had met the artist and invited him to Japan where he created a series of oil paintings inspired by her. Mumbiram was missing Vrindavan very much. So he made this painting to depict a beautiful wish-fulfilling fantasy.
In this painting we are at Mumbiram´s favourite spot on the bank of the Yamuna. In the distance you see the Yamuna winding its way through the white sands of Vrindavan.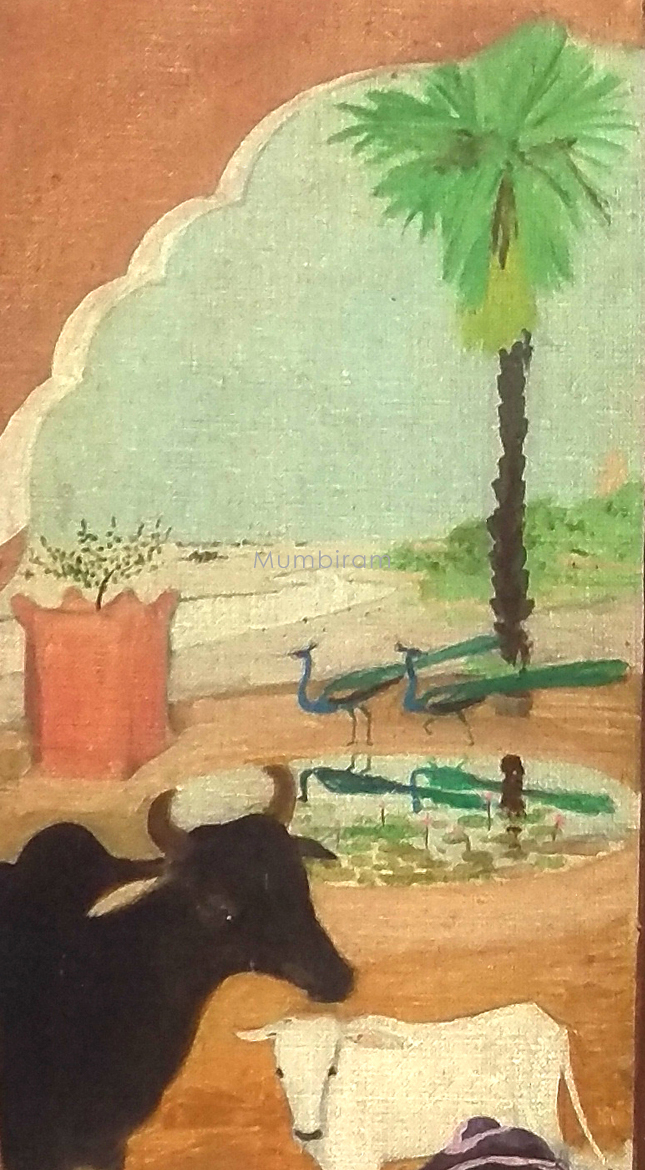 A pair of peacocks has landed by the lotus pond in the middle ground. A solitary palm suggests the tropical mood. In the villages of India every home has a cow and a calf as symbols of peace, love and purity. Carved wooden pillars support the ornate canopy of the veranda. Red ochre is used to paint the Tulasi plant stands by the lotus pond as well as the walls of the canopies of the veranda. The red ochre earth is commonly used as paint in India. It is also added to the plastered floors. This is how a tastefully decorated interior and exterior of a traditional Indian home could look. A blank canvas is leaning against a pillar of the veranda.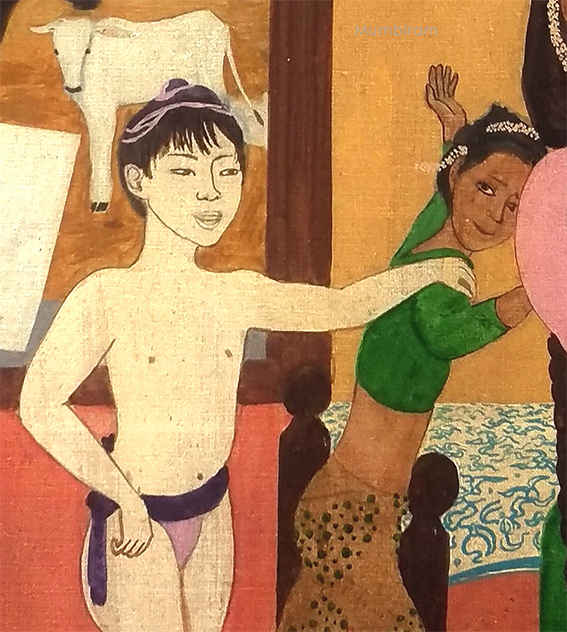 Gokula and her friend Sunanda design beautiful clothes from fabrics that Mumbiram brings for them. These fabrics are rich in textures and colours. Mumbiram uses brilliant gold leaf in the gold brocade polka-dot blouse of Gokula. The same material is used for Swati's pants. Bala is dressed like a wrestler. His clothes are from Sunanda's fabrics. That is love in simple sharing ways.
Gokula is learning how to wear a saree. The "poster" on the wall shows Sumo Wrestling of Japan.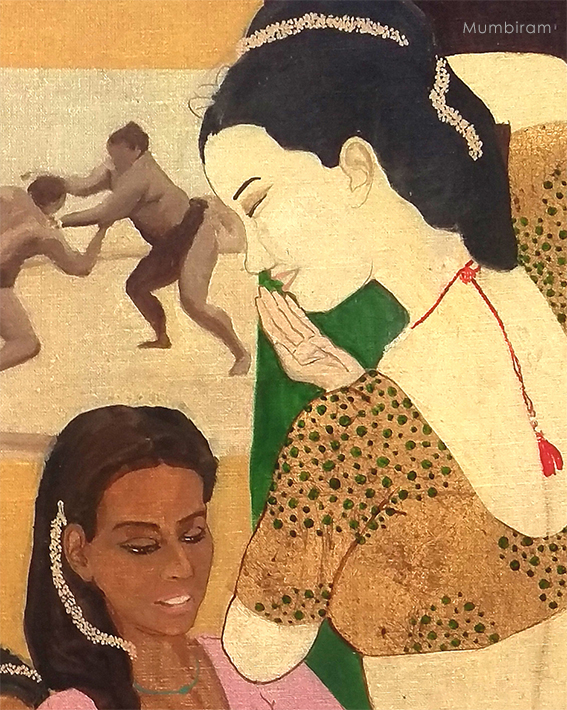 The warm feeling of sharing and rapport is most wonderfully depicted in this painting. It is an idealized world no doubt.
It is a tribute to love between people that goes beyond cultural differences and causes a renaissance through the coming together of great ideals.