GOKURA Auction
INDIA-JAPAN Relations
Gokura means Paradise in Japanese. This catalogue retells the friendship between Mumbiram and Gokula from Japan. The friendship between Gokula and Mumbiram had a storybook beginning in Vrindavan, India.
Young Sachiko, Gokula, was attending the Tokyo School of Design. How exactly she came under the magical spell of India we will never know. Among other things she read a Japanese translation of the Bhagavad Gita spoken by Krishna over 5000 years ago. One thing led to another. Not only was she fascinated by everything about Krishna, she was enchanted by everything she read about India. How she wished she could wear a saree! How she wished she could speak Hindi if not Sanskrit! How she wished to discover the soulful mysteries of classical Indian music! In return Mumbiram was invited to Japan by Gokula's parents.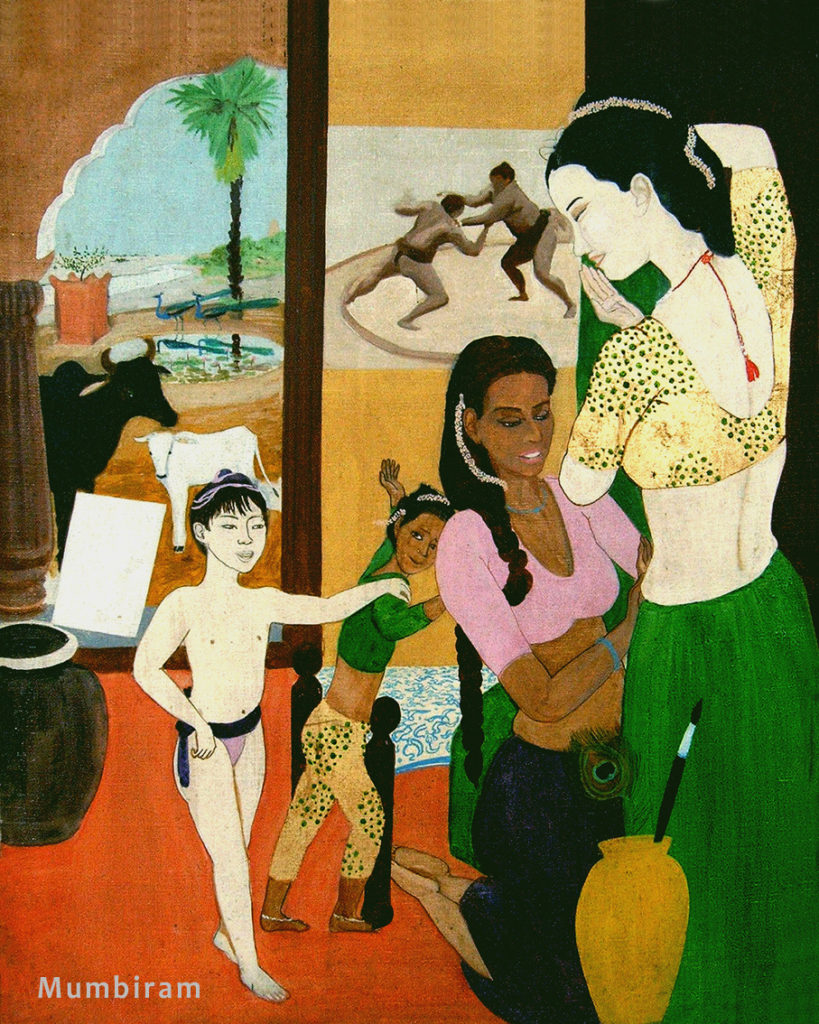 The various paintings of oil on canvas that were created by Mumbiram in Japan are described in detail in this catalogue. The warm feeling of sharing and rapport is most wonderfully depicted in these paintings. It is an idealized world no doubt. It is a tribute to love between people that goes beyond cultural differences and causes a renaissance through the coming together of great ideals.
Gokula and Mumbiram both had come to the realization that art and spirituality can be two sides of the same coin. Art at its best can be an enlightening experience to the artist as well as his muse. Art gives wings to man.
This catalogue also describes Mumbiram's stay in Vrindavan in the 80s and the meetings he had with sages and scholars, chai wallas and actors. It also presents the artworks he produced at the banks of the Yamuna and in the temples of Vrindavan.